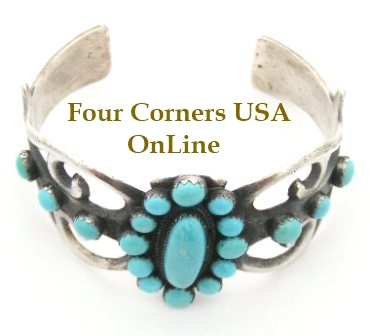 The Best Kept Secret to a Proper Fitting Cuff Bracelet. Cuff style bracelets are designed by the silversmith to have a relaxed to snug (not tight) fit at the wrist below the wrist bone. They should not be too loose that they are able to turn during regular activities nor should you be able to 'push them up the arm' as we often see. The size of the 'gap' is relative to the overall size of the bracelet and it is this opening that slides onto the wrist from a side angle.
We are often surprised at a show when a customer has never been told how to properly put on a cuff bracelet - yet they endure the 'pain' because they love the piece. You will be amazed at how easy a cuff bracelet is to get on & off once you understand the concept. If you currently own a cuff bracelet and kind of just 'jam' it on and 'yank' it off, try these steps and see how much easier it is! Understanding how to properly put on your cuff bracelet will also protect your jewelry from any damage to the stones or integrity of the silver.
Although overdue for a 'makeover' the images below were taken during an e-mail conversation with a Customer in France who just received his bracelet. When we completed our communication, I realized what an informative and usual article the images would make. Hope you find them helpful!
The key is to relax your muscle!
When the muscle is relaxed, you can place the tip of the bracelet way into the underside of your wrist - much further than when the muscle is tight.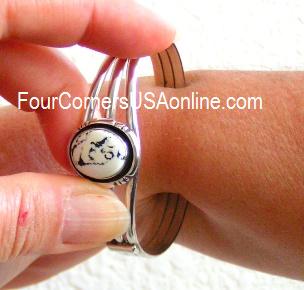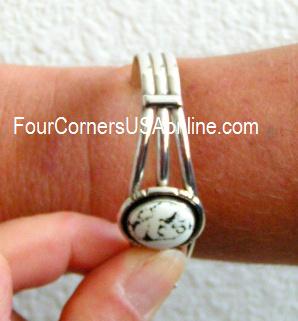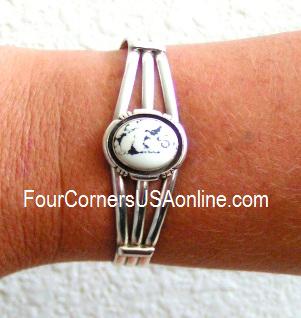 Start above your predominant wrist bone, position the bracelet sideways as shown above in the first image (relax) and allow the end of the bracelet to push into that relaxed muscle.

Once the cuff is halfway on, simply 'roll' it over your wrist staying above the bone. You should hold the cuff totally with your forefinger and thumb - I am holding it at the center for illustration purposes but you should cup the bracelet for support.

Your bracelet is now on and still above the bone.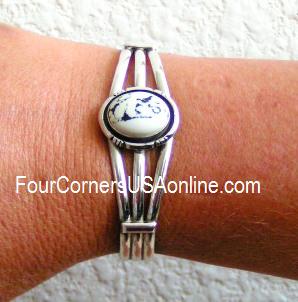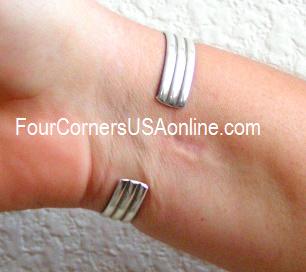 Simply slide it down into position at the lowest part of the wrist.

The underside should look similiar to this - laying comfortably against the skin with eough movement not to pinch when you roll your wrist.
Disclosure: Our Guidelines are provided as an informational resource only. Although we have heard from many Customers that they have been helpful, we are confident they are not absolute for everyone and every situation...When in doubt, consult a local jeweler or Contact Us and we will be happy to assist as best we can.
All Rights Reserved Four Corners USA OnLine