Posted by Four Corners USA OnLine on 8th Nov 2018
Wearable Jewelry Art Southwest Desert Sunface Starry Night Pendant by Native American Navajo Artisan Calvin Desson. Exquisite Inlay Folk Art Pendant with stones meticulously cut so precise one might assume it was painted. The Silver work completes this wonderful Folk Art piece with deep cutouts and sunray stamping.Inspired by his surroundings, life experiences, culture and beliefs.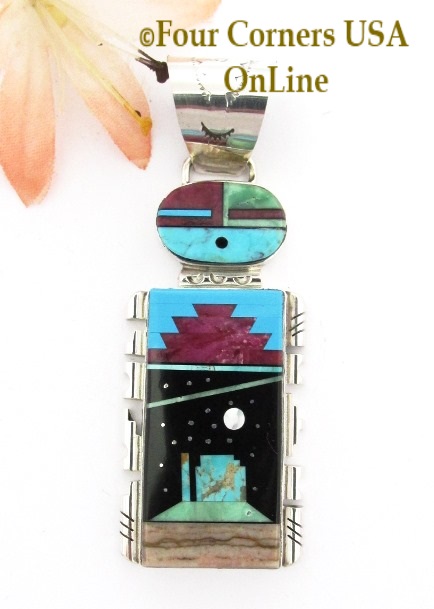 Navajo Jewelry Artist Calvin Desson passionately creates his story in stone and silver with such precision it appears like brush to canvas.This beautiful piece of cultural Art is a must for any collector and truly an heirloom in the making meant to be passed from generation to generation.

All dialogue, articles and images throughout our website are Original Written and Created Content compiled from years of personal experience, conversations and relationships for over 25 years. Copyright and Terms of Use
All Rights Reserved Four Corners USA OnLine