Posted by Four Corners USA OnLine on 16th Dec 2017
Native American Navajo Artisan Silversmith Tony Garcia is a diverse Silver and Turquoise Jeweler working with many specialized stones such as White Buffalo Turquoise and has been one of our featured jewelry makers for many years. His bold designs often offer minimal silver therefore showcasing large Turquoise Stones such as Dry Creek Turquoise, White Buffalo Turquoise, Royston Turquoise, Number 8 Turquoise, Boulder Turquoise, Pilot Mountain Turquoise, Pilot Mountain Turquoise, Sunnyside Turquoise, Turquoise Mountain and Crow Spring Turquoise.
How much fun are these adorable animal Sterling Silver and Turquoise Pendants! These whimsical pendants celebrate a wonderful varied collection of specialty American Turquoise as mentioned above. Lizards, Frogs and Bears play a significant Spiritual role in American Indian culture and folklore as evidenced in ancient pictographs and petroglyphs of America's First People.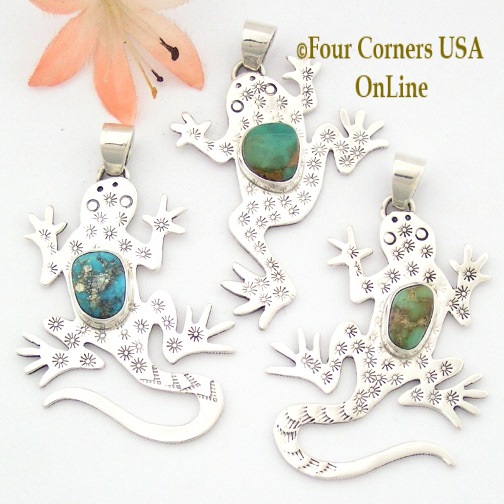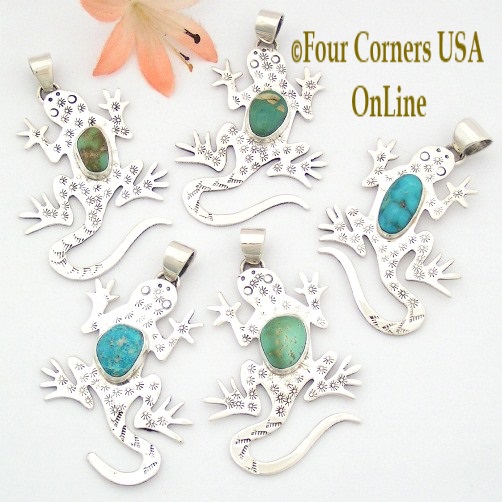 Lizards reveal weaknesses, strengths and prompts energy to change as evident in leaving their tail behind when they sense danger (and grow another). The lizard symbolizes conservation and self-protection.
Frogs in some Native American cultures are considered medicine animals who have healing powers. They symbolize adaptability, transformation and invoke the spirits to bring rain (cleansing). Frogs are also used as Clan Symbols in some tribes such as Chippewa, Zuni and other Pueblos of New Mexico.
One of my favorite displays of varied collectible Turquoise are these Five stone adjustable Link Bracelets showcasing five different American Turquoise Mines smartly presented by Navajo Artisan Tony Garcia.
Wonderful chunky Turquoise Link Bracelets sporting awesome stone specimens from many of America's favorite mines including Royston, Number 8, Boulder, Pilot Mountain, and Crow Spring Turquoise.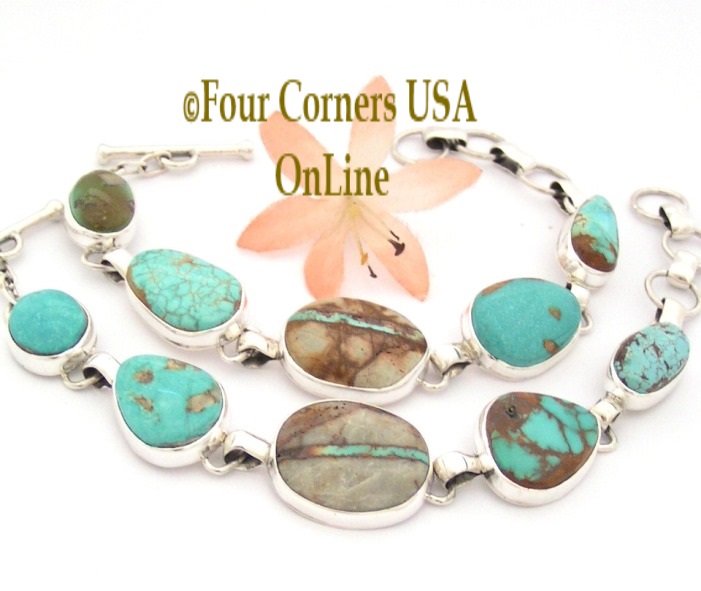 Mr. Garcia has periodically collaborated with Navajo Freddy Charley complimenting his wide ornate Ring Band Shanks with rare and collectible Turquoise Settings as with these Sleeping Beauty Turquoise, Sunnyside Turquoise, Turquoise Mountain and White Buffalo Rings below.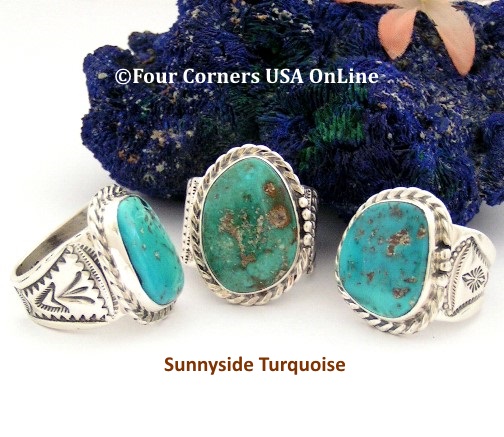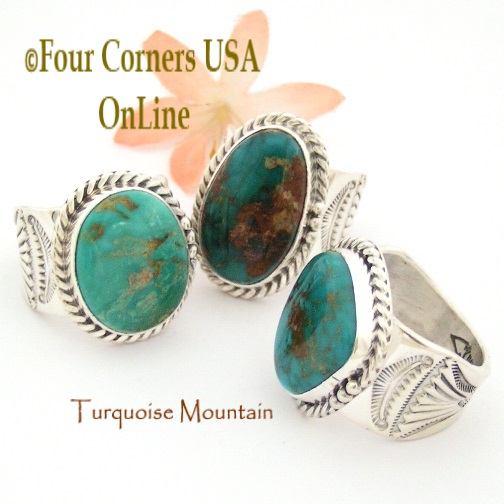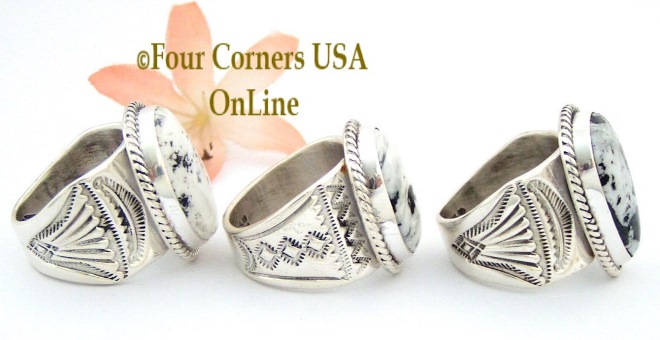 Tony Garcia was born into the Laguna Pueblo and currently lives in the small American Indian village of To'hajiilee (formerly known as Canoncito), New Mexico with his wife and children. Tony Garcia has offered his distinct Hallmark of TG simply with a curved 'Sterling' or surrounded with SunRay (possibly Rattlesnake) stamping.
A must for any Collection!

All dialogue, articles and images throughout our website are Original Written and Created Content compiled from years of personal experience, conversations and relationships for over 22 years. Copyright and Terms of Use
All Rights Reserved Four Corners USA OnLine