Turquoise Inlay Straight Rings
Turquoise Inlay Band Rings Native American Navajo Silversmith Wilbert Muskett Jr. Mr. Muskett offers a traditional style Turquoise Inlay Band Ring with raised stone and sterling channel inlay.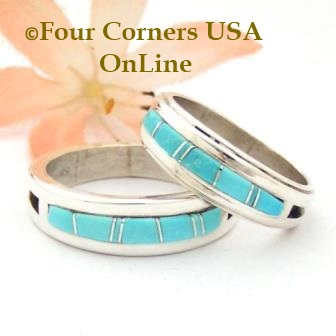 The image to the right showcases both the Straight Edge (bottom) and Ridge Style (top) Band Rings. Our Turquoise Inlay Straight Edge Band Ring which offers a heavier shank and clean straight lines versus theTurquoise Inlay Ridge Style Band Ring offers a comfort ridge on both sides allowing the ring to step down closer to the skin. As Native American Jewelry is so often considered Unisex, this Ridge Edge design offers both Men and Women a lighter weight more traditional band ring fit.
Our newest addition (pictured below) the Turquoise Inlay Rope Band Ring brings back a design made over a decade ago offering a bit more detail with a twisted wire Rope design on both sides in a shank weight for both Mens Ring Sizes and Womens Ring Sizes.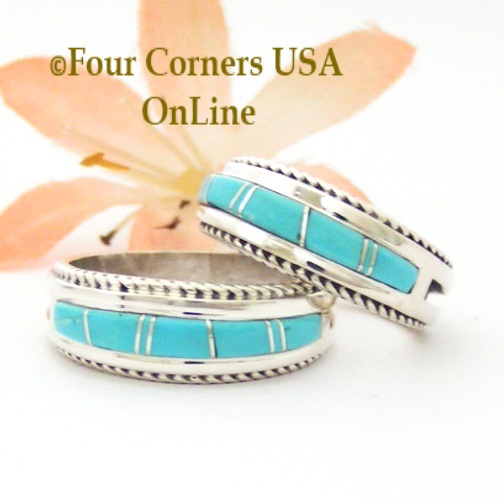 These beautiful time honored Turquoise Inlay Band Rings are a wonderful fashion statement and make great replacement Wedding Band Rings, Anniversary Gifts, Commitment Rings or just signs of affection. Native American Turquoise Inlay Wedding Band Rings are a wonderful alternative to traditional or socially expectant Wedding Rings and a true expression of your personal style.
Turquoise is a natural stone and coloring can vary, feel free to contact us should you have questions.
Use our 'Compare' feature to see your ring selections side by side for easier viewing. Compare 3-4 choices by checking the 'compare' box!

Looking for Engagement Bridal Rings? We also offer many of our Inlay Band Ring styles and colors in matching sets for the Bride and Groom.
Wilbert Muskett Jr

Your Price:

On Sale Now:

$88.00