Turquoise Inlay Rings Ella Cowboy
Turquoise Inlay Band Rings by Native American Navajo Inlay Artisan Ella Cowboy. Ms. Cowboy has a wonderful Contemporary styling exemplified by her precision channel inlay with Turquoise stone recessed in the Sterling setting.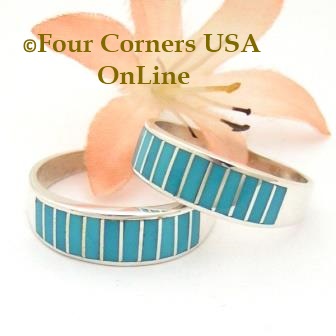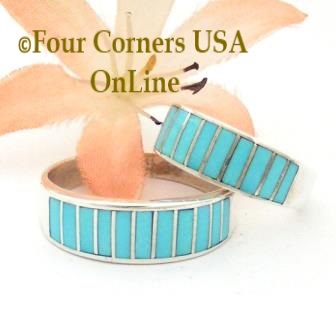 These beautiful time honored Turquoise Inlay Band Rings are a staple fashion statement and make wonderful replacement Wedding Band Rings, Anniversary Gifts, Commitment Rings or just signs of affection. Native American Turquoise Inlay Wedding Band Rings are a wonderful alternative to traditional or socially expectant Wedding Rings and a true expression of your personal style.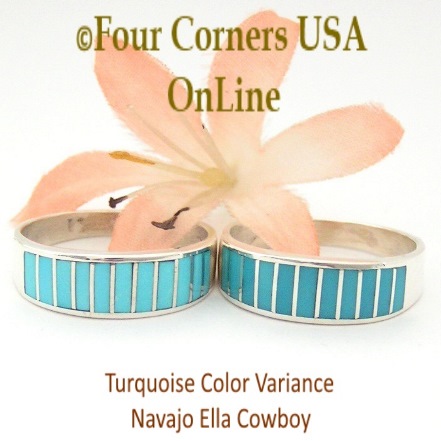 Turquoise is a natural stone and coloring can vary, feel free to contact us should you have questions.
This image of color variance is a fair example of the tone difference in the new Turquoise being used. Unfortunately, it does not (in my humble opinion) depict the true beauty of the deeper Turquoise which has that 'glowy' translucent color often seen in Sleeping Beauty.
Use our 'Compare' feature to see your ring selections side by side for easier viewing. Compare 3-4 choices by checking the 'compare' box!

Looking for Engagement Bridal Rings? We also offer many of our Inlay Band Ring styles and colors in matching sets for the Bride and Groom.