Posted by Four Corners USA Online on 9th Oct 2019
Bridal Engagement Wedding Ring Sets On Sale Now! After 18 years of Bridal Engagement Wedding Ring Sets custom work with Native American Navajo Artisans Wilbert Muskett Jr and Ella Cowboy, we are closing out our final inventory. As our selection of sizes dwindle in our Wedding Bridal Ring Sets, enjoy savings on all our remaining inventory of Navajo made Inlay Bridal Engagement Wedding Ring Sets in a variety of colors and styles but all limited in sizes ranging from 4 to 10.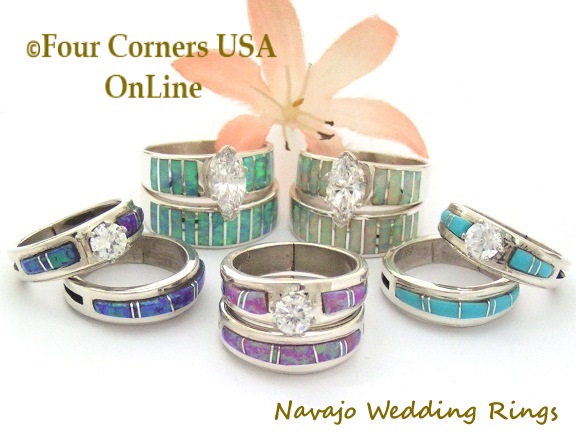 Native American Inlay Bridal Wedding Engagement Ring Sets with a variety of designs including Marquis and Round settings in Turquoise Inlay, White Fire Opal, Pink Fire Opal, Blue Fire Opal, Purple Fire Opal, Coral, and combinations of Turquoise and Coral On Sale Now at Four Corners USA OnLine.
All are limited size selections. For All Rings currently On Sale, visit our Native American Rings On Sale Jewelry Specials

All dialogue, articles and images throughout our website are Original Written and Created Content compiled from years of personal experience, conversations and relationships for over 25 years. Copyright and Terms of Use
All Rights Reserved Four Corners USA OnLine